Bruce Willis Respects Himself
In the 1980s, Bruce Willis put out a couple of albums, which included this cover of Respect Yourself by the Staple Singers. Perhaps it was inspiration for Madonna's "Express Yourself" two years later?
Anyway, here's the video of Bruce Willis singing in a bar. Best part? Bruce doing sassy black lady pointing with June Pointer (3:37).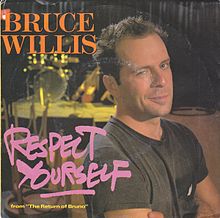 Preach it, Bruce.