What The TSA Pat Down Is Like
[Note: On the way to Washington DC to attend a conference, I received the TSA pat down. I wrote this right after it happened:]
I am currently at San Francisco International Airport, otherwise known as SFO. I'm traveling with my friend Marcia Simmons from San Francisco to Washington DC to attend the AWP writer's conference.
SFO has installed millimeter wavelength scanners. As you probably know, not only does walking through these scanners expose you to a dose of radiation, it allows the TSA agent to see you naked. Here is a sample image from the machine: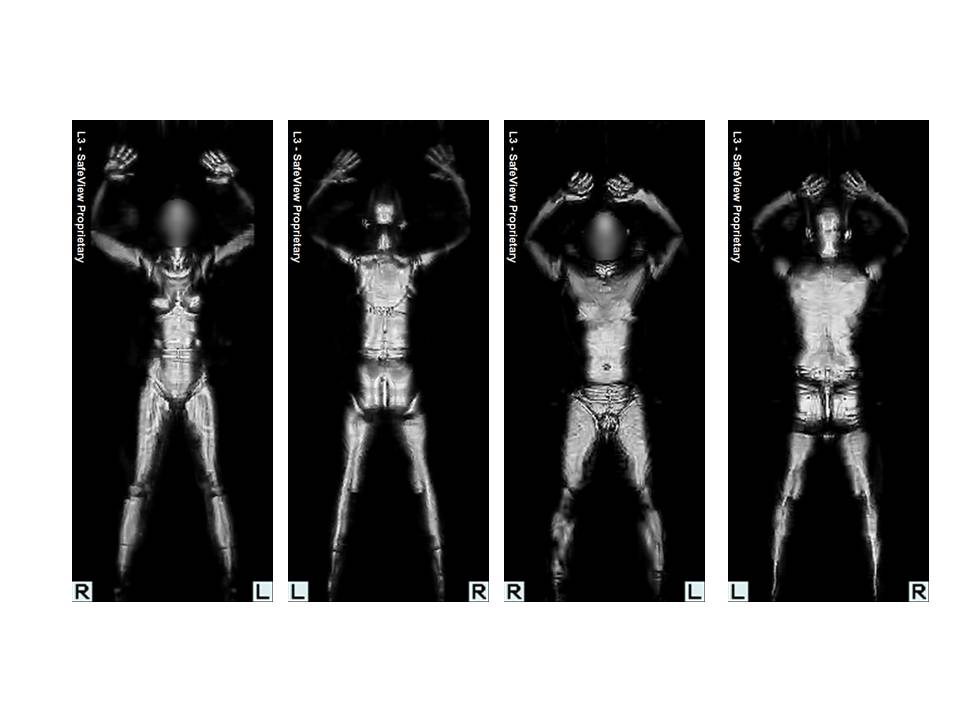 [Image source.]
I don't feel there is any reason a TSA agent should see me naked, so I opted out of the scanner. Marcia also opted out. When you do this, you have to undergo the new TSA pat down where the agent touches private areas of your body, including between your breasts and along the inside of the waistband of your pants. For men, they also cup your balls.
Although Marcia and I both received the pat down, Marcia had a very different experience than I had. Here's what happened:
Marcia went first. The TSA agent asked her why she was opting out of the scanner, wrote her answer down in an official-looking binder, took her to a partitioned area, and began the pat down.
I went second. My TSA agent's name was Crystal. She asked me why I was opting out of the scanner. I said, "Because I don't want TSA agents to see me naked." Crystal said, "Fair enough. Come with me." She did not write my reason in the binder like the other agent did for Marcia.
I was led to a partitioned area across from Marcia. I said, "I am willing to be patted down, but I don't want you to touch any sensitive areas, like near my breasts." Crystal said that I had no choice, I had to be patted down. She added that she would show me what she was going to do to me on her own body. While gesturing to herself, Crystal explained that she was going to run her hand over my arms, my legs, inner thighs, pelvic area, butt, stomach, and between the breasts. In addition, she said she was going to run her hand around my waistband, which would require her putting her fingers inside my pants, next to my skin.
When she finished, I said, "I'm not comfortable with what you're telling me. I don't want you to touch me intimately like that."
Crystal bristled at this word, intimate. "I'm not going to be touching you intimately, ma'am," she said.
"It sounds intimate to me," I said. "I'm sorry, I'm just not comfortable. I don't want you to touch between my breasts or inside my pants."
Crystal didn't know what to do so she went to get her supervisor. Meanwhile, Marcia had finished up and was gathering her things. I called her over and she told me that her TSA agent hadn't touched her like Crystal was describing. While much of the pat down was the same, the agent had not touched the front of Marcia's pelvis, between her breasts, or the inside of her waistband. Instead, the agent had pinched the waistband of Marcia's pants and jiggled it, without touching her skin.
Meanwhile, Crystal came back with her supervisor. I again explained that I didn't want private areas of my body touched because it is a violation of my rights and privacy.
"Well, would you like to go to a private room for the pat down?" the supervisor said. "Because it IS going to happen."
I didn't see the point of going to a private room. If they were going to do something to me, I wanted it to be in public, with witnesses around.
"No," I said. "Like I said, I'm willing to be patted down. I understand that you have to do your job. I just don't want anyone to touch me on a private area."
"This is how we do the pat down, ma'am," the supervisor said. "Everyone has to go through this."
"My friend didn't," I said. "She was not touched between the breasts or inside the waistband of her pants."
The supervisor didn't believe me about that at first, but then she asked Marcia and confirmed that I was telling the truth. However, then the supervisor told me that I did not have the same options Marcia had. While Marcia was not touched intimately, I still had to be.
At this point, I could tell I wasn't going to win. I thought I would be strong and withstand the bullying, but in the situation, I felt intimidated and afraid. I was also confused because Marcia had received such a mild version of the pat down that I was still hoping, somewhat irrationally, that it wouldn't be that bad.
So Crystal gave me the pat down while her supervisor watched. Here is exactly what she did:
* First, she ran her hand over the top and bottom of my arms.
* Then she ran it down my sides and outer thighs.
* Then she ran her hand over my butt.
* Then she took her finger, inserted it in the back waistband of my pants next to my skin, and ran it around the back.
* Then she took her hands, cupped them around my leg, and ran them from my upper inner thigh to my foot. In doing so, her finger grazed my vagina. I'm not sure if that was an accident or part of the pat down.
* She did the same on the other leg.
* Then she took her hand and inserted it between my breasts.
* Then she took her hand and ran it down the front of my pelvis, from the waistband of my pants down to my vagina.
* She took her hand and ran it from the bottom of my breasts down my stomach.
* Finally, she took her finger, inserted it in the front of the waistband next to my skin, and ran it all the way around the front of my body.
When she was done, she had touched every part of my body except the front and sides of my breasts, my face, neck, and the bottom of my feet.
By now, I was so upset I was almost crying. But they were not done with me yet. Crystal told me that she had to get some kind of chemical test on her gloves before I could leave. So I stood there like a criminal with my feet planted on the mat while the supervisor watched me. I asked her if I could put on my shoes, but she would not allow me to do so. She told me that I had to stand there until Crystal finished the test.
Finally, Crystal returned and said I checked out. I am not a terrorist or a drug smuggler.
I asked to lodge a complaint about the pat down. I was given a form to fill out, which I did. Who knows where that will end up.
There's no doubt in my mind that this pat down was a violation of my rights. Not only does the Fourth Amendment insure reasonable expectation of privacy, it says that citizens have a "right against unreasonable search and seizure." The TSA pat down is an unreasonable search. When we arrest people in this country, we don't give them invasive pat downs, yet here I had to undergo one, and for what? Am I a terrorist? Was I smuggling drugs? No, I was just a woman trying to get on her flight, and the US government treated me like a criminal.
What surprised me the most was how upset the pat down made me. I am not someone who is easily scared or shaken up, but afterwards, I felt disturbed and violated. If the pat down can make me feel like that, imagine what it must do to someone who has undergone physical trauma, such as rape or molestation. And what about young girls? [Note: In Washington DC, Marcia watched an 8-year-old girl go through the scanner.] Are fathers now going to have to choose between a TSA agent looking at their little girl naked or running her hands over the girl's body? And yes, this is a non-sexual situation, but still, that's what it is: someone running her hands all over your body.
The bottom line is, as a U.S. citizen, I shouldn't have to endure being groped by a stranger just to get on a plane. It makes me wonder what we are becoming. If our rights are being taken away from us so blatantly, how can we truly continue to call ourselves a free nation?