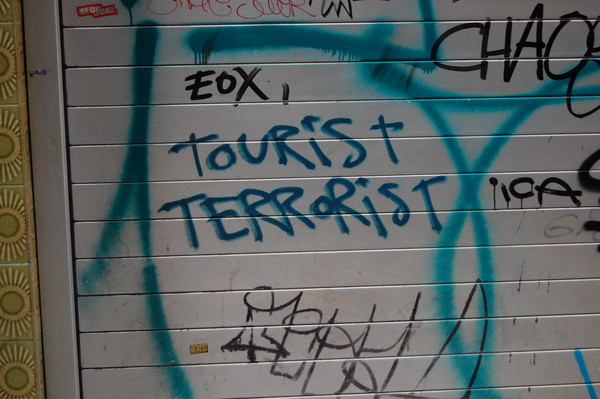 I was so excited to go to Barcelona, but ended up thinking it was overrated. It's touristy, expensive, and the people are kind of mean and grumpy, and yet the city doesn't have the great museums or sites that make putting up with all that worth it. It's not that I regret going; you have to see Barcelona when you're in Spain. But we were there too long. We went for three days, and two days would have been plenty.
All the guidebooks told us to go to La Rambla, a popular street that everyone walks in Barcelona. We thought it had an unfortunate Las Vegas-like feel about it and soon learned to avoid it. La Rambla is jammed with tourists, scam artists, questionable restaurants, and overpriced stores selling things like this for $700: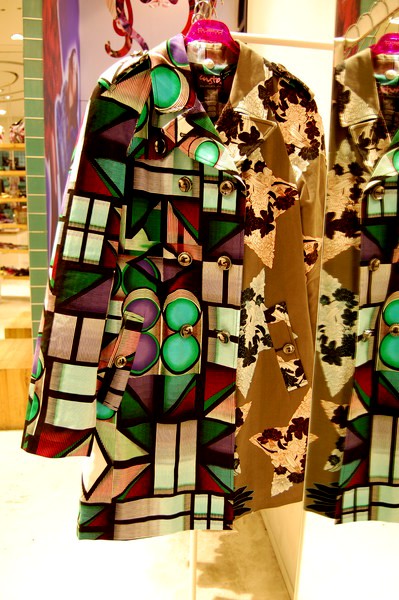 Luckily, there is the Barri Gòtic (Gothic Quarter), which was more our speed. It has little alleyways that you can wander and, with a little hunting around, we managed to find a few good restaurants, some cool shops, and a nice vermouth bar, where we sampled Spanish vermouth. We also bought a piece of art by the photographer Willy Rojas and other souvenirs.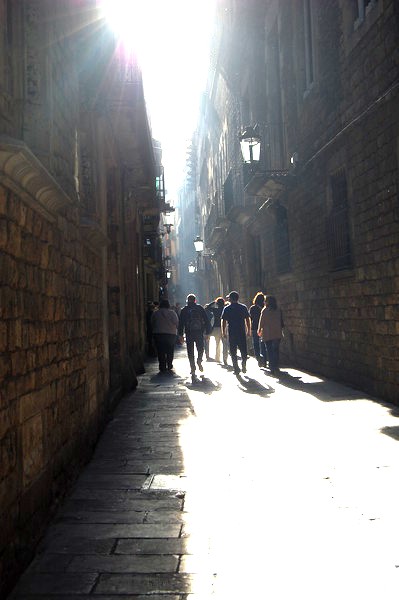 Alley in the Barri Gòtic
Barcelona style is worth paying attention to. There are unexpected quirks everywhere in the city, cool statues or weird manhole covers or a buoy shaped like a boy staring up at the stars: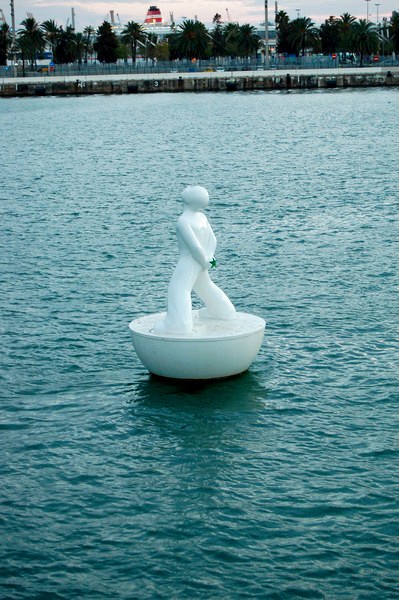 Of course, many of these details descend from Antoni Gaudi, the architect whose work is all over Barcelona. We stood in line for an hour-and-a-half and paid $40 to see the Sagrada Família, otherwise known as Gaudi's cathedral.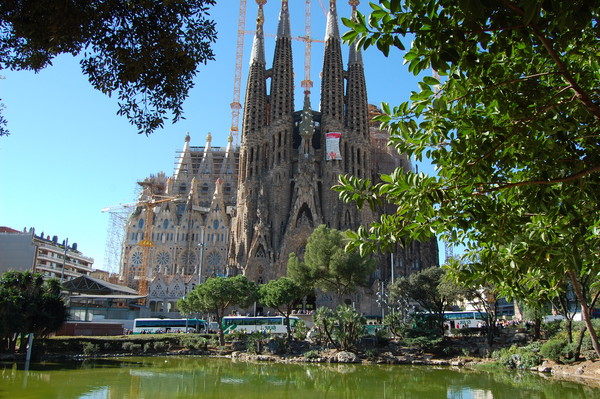 Gaudi's cathedral was the single thing that lived up to its reputation in Barcelona. It was amazing. Inspired by churches like Notre Dame in Paris, which took 185 years to complete, Sagrada Família was designed by Gaudi in 1883 and is still being worked on today.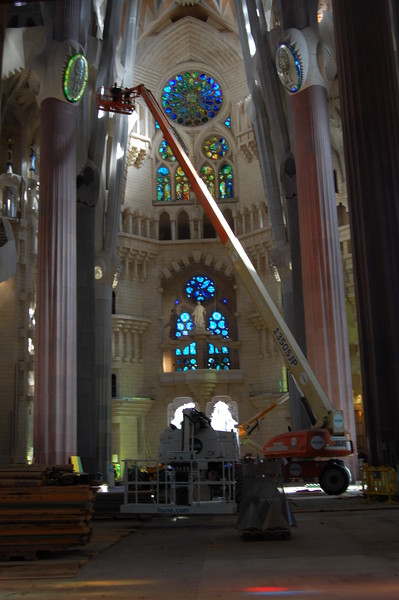 Here is what I wrote to a friend about Sagrada Família while still in Spain:
It takes an hour-and-a-half to get into the cathedral, and then you realize that you have paid $40 to walk through a construction site. (The cathedral may take a couple hundred years to finish. It is already in year 114, or so.) But you walk in and you forgive because it is so amazing and beautiful–long columns like the branches of–is it flowers? trees? human bones?–and just the start of all the color–stained glass along the walls, "jewels" of glass on the columns. Some day, the building will be completely covered with color, but right now they are just starting to put it on. The outside of the cathedral is covered in intricate details and figures, all depicting the life of Jesus. It may be one of the only long-term projects I have seen where people who work on it can feel proud that they are contributing to something lasting and real.
Pictures: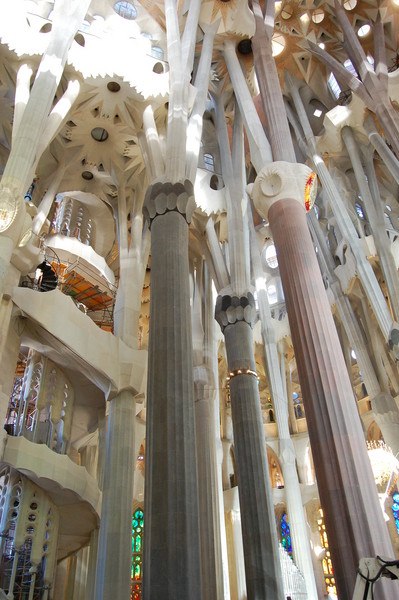 Inside the cathedral

Stained glass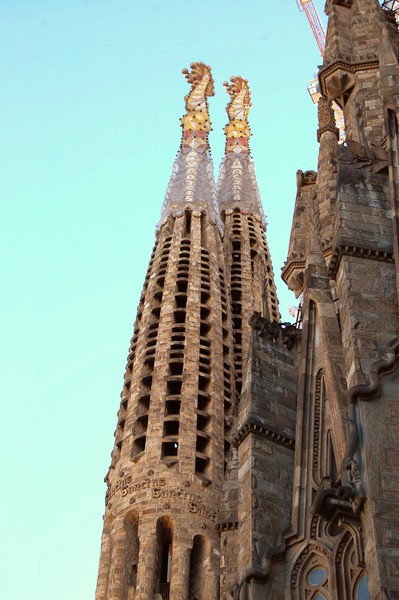 Spires with the beginning of color at the top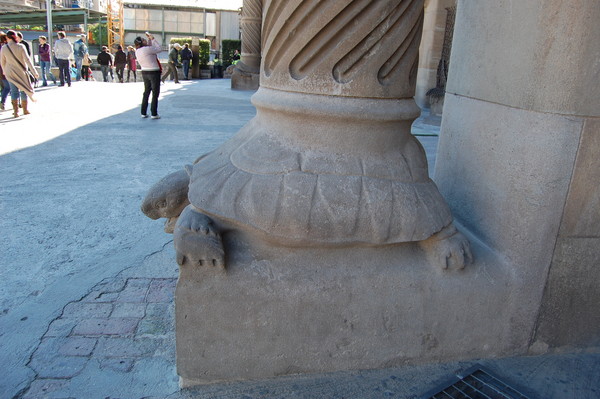 Turtle holding up the weight of the world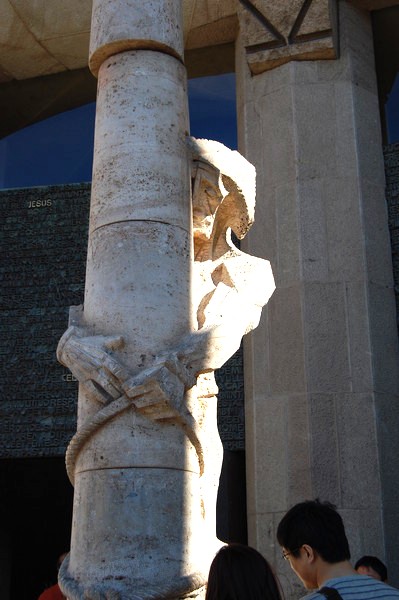 Jesus carrying the cross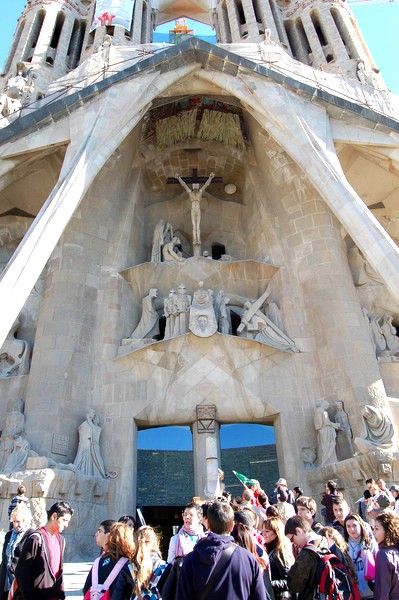 The crucification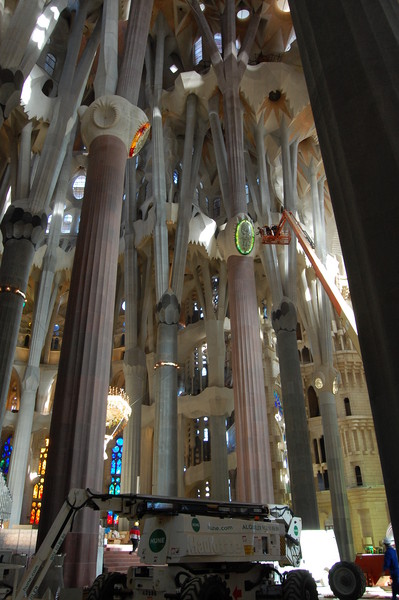 Inside, again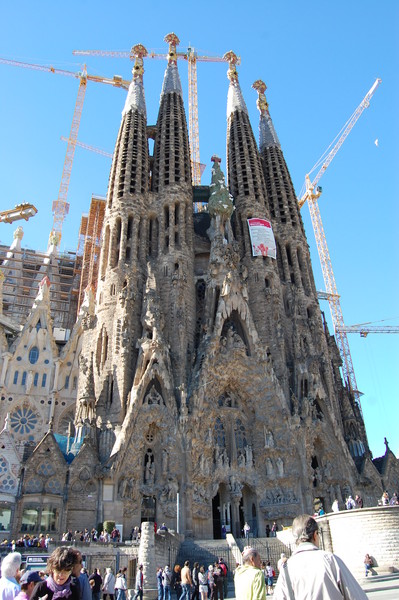 Another picture to give a sense of the size of the cathedral
We also went to Park Guell and toured Gaudi's home. He lived a rather stripped down, Spartan existence and seemed more sober as a person than I expected. The park itself had great views of Barcelona: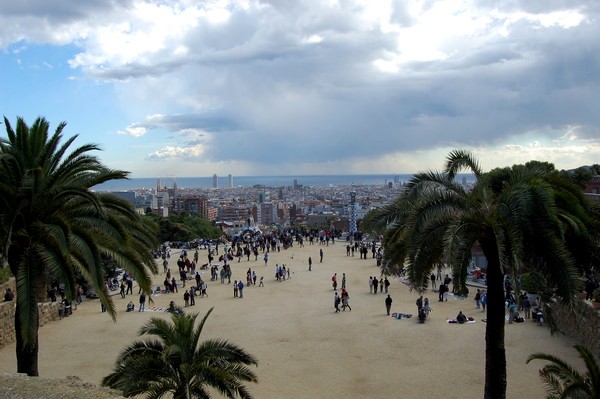 But other sites in Barcelona disappointed. We walked down the Block of Discord, a section where Gaudi has two houses, but found they would cost us $60 to tour, which didn't seem worth it. We also drove to the nearby town of Figures to see the Salvador Dali museum, and then wished we hadn't. The museum was designed by Dali at the end of his life, after he had become a full-blown hack and had sold off all his good paintings. There are probably 3 or 4 paintings worth looking at in that museum. The rest are holograms and pretend bedrooms and toilets glued to the ceiling and so forth. It all looked dated, plus the museum is expensive and really crowded.
Finally, we went to the Picasso museum, which I had mixed feelings about. The museum clearly demonstrates what a genius Picasso was. I mean, he painted this when he was 15 years old: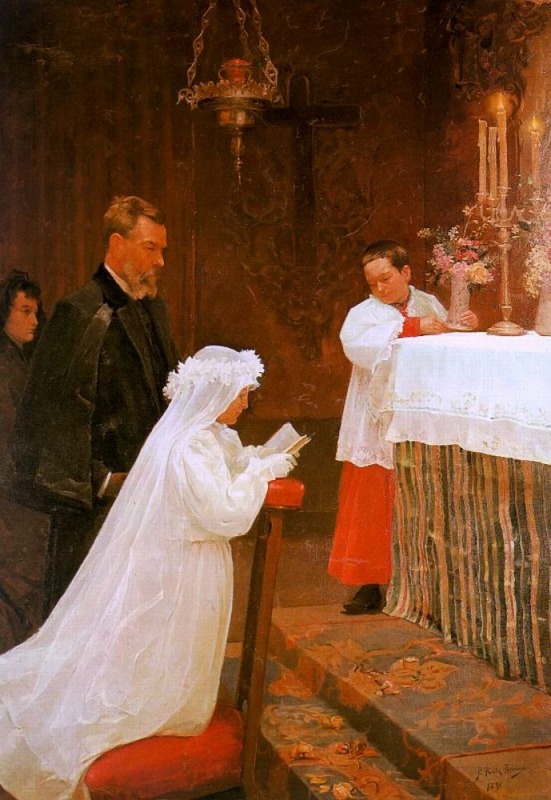 But the museum only has a few of Picasso's major works, which would have been okay except that the way it is designed sets up expectations that you will see most of his great paintings. When you don't, you feel a little ripped off.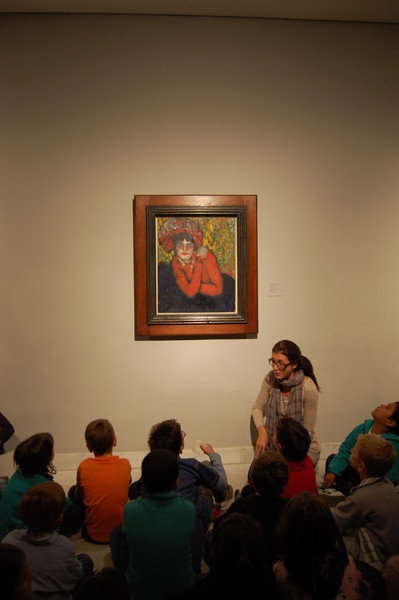 Woman teaching a class about Picasso
So that was Barcelona. Overall, Spain was one of the most exciting, interesting, and surprising places I've ever been to. It is well worth the cost and trouble to visit. And look! They had a Spanish translation of one of Kyle's books in a Barcelona bookstore: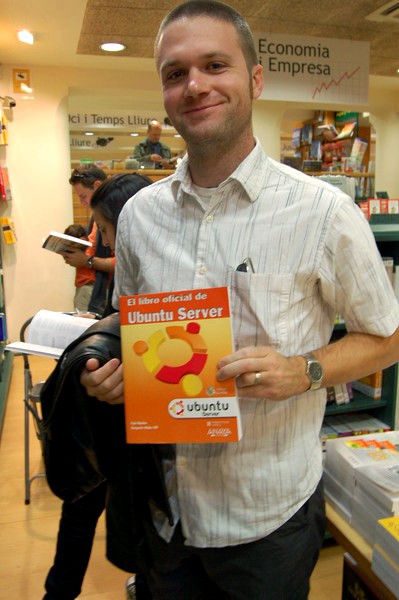 How can you not like a place with such good taste in books?
Spain 1: Madrid
Spain 2: Tarifa and Morocco
Spain 3: Granada
Spain 4: Barcelona