When you read a lot, certain places can become somewhat mythical in your mind. Years later when you finally go to these places in real life, they either delight you by exceeding your expectations or disappoint you by being far below them. Mississippi was the latter type.
This is the cradle of the Civil War? For real? The place that Mark Twain and Tennessee Williams and William Faulkner wrote about? Are you sure? The land of Huck Finn and The Sound and the Fury? This, this place of strip malls and kudzu?
Don't get me wrong. Mississippi is pretty with the rolling hills and large trees. I even saw some cotton. See?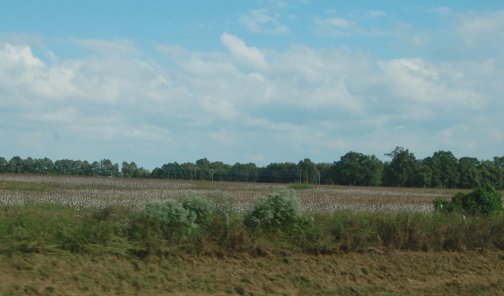 We ended up in Oxford, which is where Faulkner grew up and wrote about in most of his books. From reading him, I had different expectations in mind. You mean, this brick building with the white columns tacked on the front is the type of mansion that Miss Emily in A Rose for Emily would live in? But that's not right! Where are the huge windows with tattered curtains? Where is the Spanish moss hanging from decaying trees? You mean that isn't a thing in Mississippi and I should try other Southern states? You don't say.
At least Faulkner's house, Rowan Oak, didn't disappoint. He bought the place in 1930 and lived here until his death in the 1960s. Before he owned it, it was the pre-war home of Colonel Sheegog, the guy who settled Oxford, and before that, the land was the home of some Native Americans. Faulkner was fascinated with its history.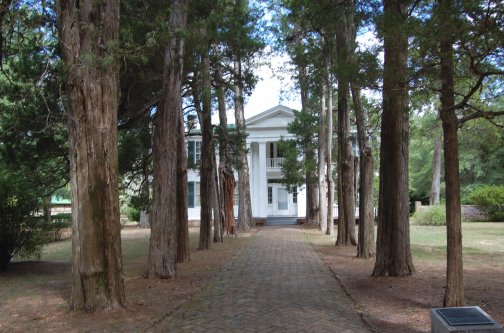 Front of the house
During the tour, I learned that Faulkner wrote the structures for his novels on the walls of his office. I like this because that's exactly what I would do if I owned my home and didn't have to worry about getting a rent deposit back.
Here is a picture of his office wall where you can see the plot to A Fable written in pencil and red grease pen in Faulkner's own hand: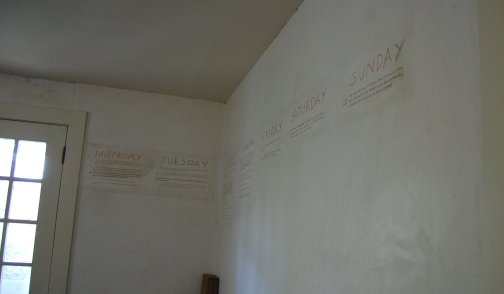 I left the house liking Faulkner much more than I thought I would. Before I went in, I had the impression he was kind of a mean man, but now I think he was just uppity. And how can you not like someone who says things like this:
All of us failed to match our dreams of perfection. So I rate us on the basis of our splendid failure to do the impossible.