Quick Facts:
Miles traveled: 70
Hotel: Richelieu Hotel in the French District of New Orleans
Gas prices in the last four states: Roughly $2.89
Landscapes: Spindly trees and swamps, yet somehow still pretty
Disappointments: Not getting to go on a swamp tour because it's booked. No alligators and snapping turtles for me.
I knew I would like New Orleans, but I didn't know I would love it. Well I do. I loooove that place. Anyplace where I can look at 18th-century architecture, listen to multiple bands for free, eat yummy cuisine, buy a painting by a local artist, and see interesting, varied, fascinating people ranging from the Amish to prostitutes (I have pictures of both) is a place for me.
Now you might be wondering: What about the hurricane? Yes, there is damage, but your average tourist won't see the terrible stuff that's on the news. Because I was in the French District, which was above the water, I only saw a few boarded-up houses–nothing that I would call devastation.
You might have also heard that New Orleans is dangerous. Neither Kyle nor I felt threatened or uncomfortable when we were there. People went out of their way to help us and talk to us. We did see some bums–which is inevitable for a place where you can buy Hurricanes for $1–and the aforementioned prostitutes, but nothing that isn't in any other big city.
Some things that stuck in my head:
The truffled egg: A soft-boiled egg with the top sliced off so you could see its rich yellow yolk, rolled in truffles and sitting on a piece of toast in a bed of mushroom-and-cream-sauce. Amazing. We were at Bacco, a fusion of Creole and Italian food. "I love when people get the egg," the waitress said. "It means they really love food." Flattery! I also had great shrimp at Bacco, although they warned me several times that they leave the head and the tail on when I ordered them. "One lady from New York started crying when she saw the heads, so we warn people now," the waitress said.
The American chameleon: Walking down the street, suddenly this little guy shot out of the window box and began to stalk a bug. I said, "Is it a gecko?" and Kyle said, "No it's an American chameleon." We were about to catch the lizard and put it on different surfaces to see if it changed colors when a local stopped and said, "No it's a gecko. They are all over Louisiana. They change from brown to green depending on where they are." Kyle still thinks it is an American Chameleon.

I think he's probably right.
Musicians everywhere: I tend to get bored with jazz, but these bands held my attention for entire sets. And there were no covers.
My new hat: Circa 1930 or so, $12 at a vintage store.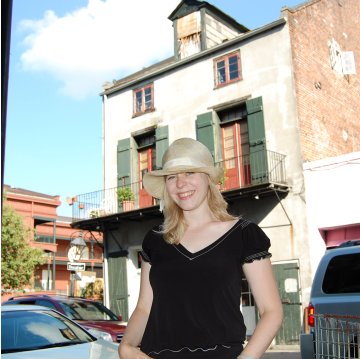 It's sad when the squinting picture is the best one.
Banana trees: I never realized how banana trees have orchid-like flowers that hang down on long cords, which eventually sprout bananas. I don't think we can grow bananas in California, which is too bad, because they are gorgeous plants.
"She done run out here!": a woman exclaimed as a little black girl ran toward her and they embraced. "I done got me some love from this one," the woman said, covering the little girl's face with kisses. Adorable!
Balconies: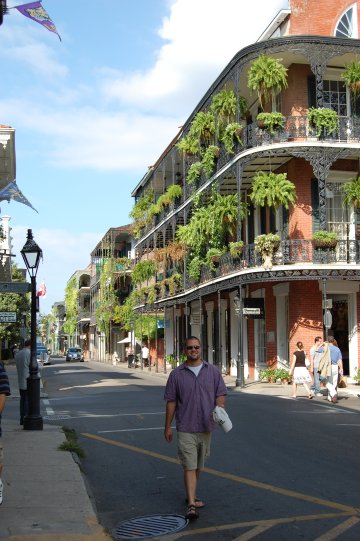 I just love the balconies.
So in conclusion: Do not be afraid of New Orleans. Go there and have fun.