Quick Facts:
Distance Traveled: 436 miles
Lunch: Cracker Barrel, Kyle's favorite restaurant
Books Listened To: Fear And Loathing In Las Vegas by Hunter S. Thompson
Altitude: 6,000 feet
Scary Thunderstorms Traveled Through: One
Hotel: Red Roof Inn in Gallup, New Mexico
Kyle and I took a trip to the Grand Canyon three years ago, so we decided to drive straight through Arizona this time around.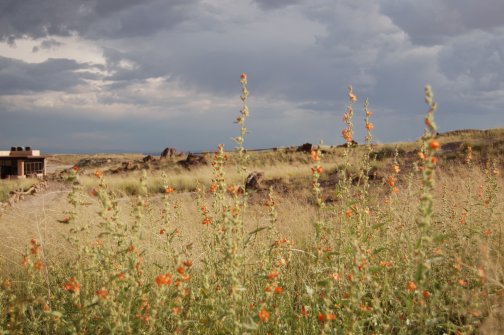 The weather, for most of the trip, was perfect–75 degrees with a pleasant wind. Arizona is beautiful with a giant sky and huge clouds and zillions of juniper bushes that spot the landscape like a never-ending Christmas tree farm. The highway signs kept telling me to look for elk and rams, but the only creature I saw was a dead coyote on the side of the road.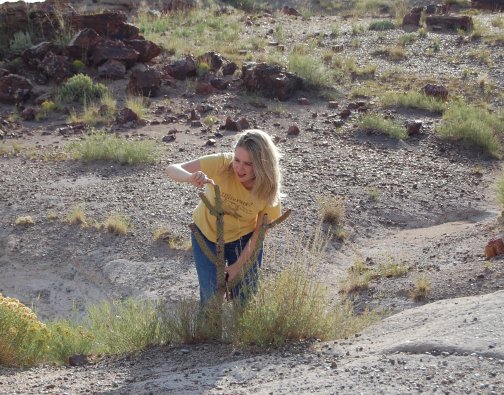 I did, however, see my first desert cactus.
At the end of the day, Kyle and I went to the painted desert and petrified forest. The painted desert was not as vibrant as it usually is because of a persistent thunder storm that had started about an hour beforehand. I still enjoyed the weird rock formations.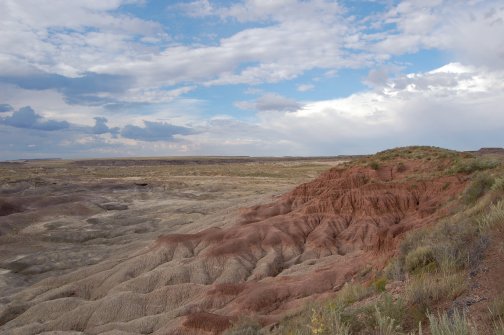 Now the petrified forest was amazing. The trees, which are millions of years old, are gorgeous amalgamations of colors–red, yellow, white, black, orange. Sometimes it's hard to believe they are stone. Other times, it's hard to believe they were once trees.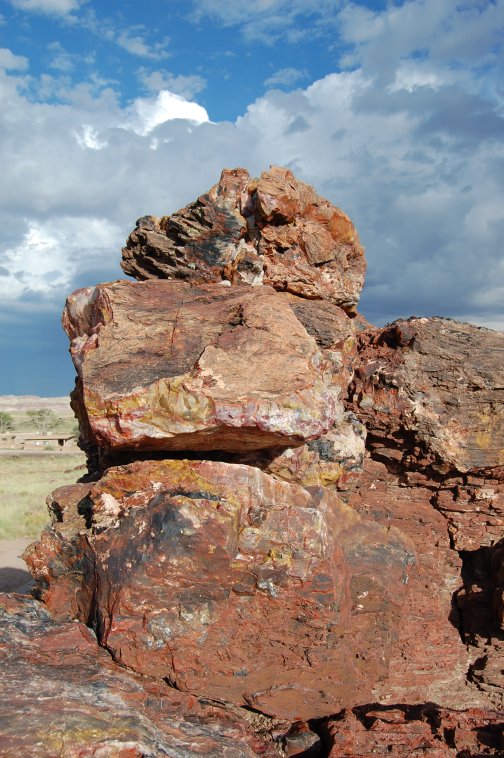 A pile of rocks? No, the roots of an ancient tree.
The thunderstorm was the strangest one I have ever been in. Because the clouds were interrupted by the blue sky, you could see where it began and ended. As we drove into it, giant bolts of lightning twisted in the sky and when we got on the highway again, there was a giant rainbow that ended on the freeway. We drove right through it.
Then, it started to hail. Soon it was hailing so hard, I thought it was going to break through the window. Lightning was flashing all around us. I put my hands over my face and tried not to freak out. After awhile, I decided that if the hail was going to go through the window, it would have done it already and started to calm down.
Just then, a giant bolt of lightning streamed down and struck across the freeway. It was so close, we could see how the end of the lightning looked like a red poker when it struck. I more or less held my breath from then on, and finally, we came out of it. The sunset that night was amazing.
Tomorrow: Santa Fe.