Quick Facts:
Distance Traveled: 601 miles
Temperature: Hot with weird hot wind
Hotel: The Stratosphere, the one shaped like a space needle
Dinner: A surprisingly good sea bass at the Luxor, the one shaped like a pyramid
The drive over was smooth and fast, considering. The Mojave Desert was hot but not unbearable, especially since we spent most of the drive under a sheet of clouds.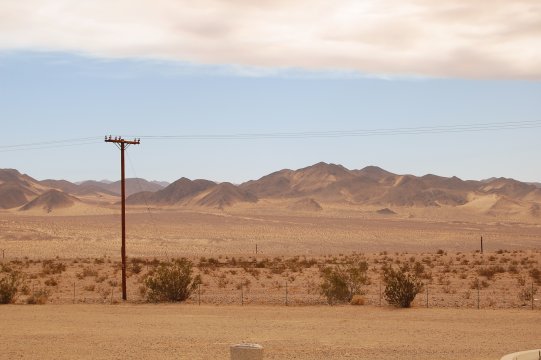 This is the second time I've been to Vegas. I put a dollar into a slot machine and did not win. One lady was not wearing pants–she was wearing white leggings circa 1989 and a red polka-dot shirt, and the leggings were completely see-through. Two old guys with stringy hair were filming a handsome young man walking down the Vegas Strip for a movie or TV show. The actor was looking up at the lights in a country-mouse-in-the-city kind of way, and he didn't break character even when the old guy shooed a woman out of his path by shouting "Clear!" Everything is so dramatic in Vegas. I suggested to Kyle we get matching "Sin City Kitty" tee-shirts, but he wouldn't go for it.
It was fun, but Vegas is getting so expensive. Where was the free food? The $2 margaritas? Will people keep coming here when they realize all that's going away?
Probably. But I won't.
Today, I am going to … Gallup, New Mexico … possibly? Adventure!