Article: Le Bistro Restaurant Review
Check it out: This week's issue of the Bohemian has my restaurant review of Le Bistro in Petaluma.
Le Bistro

By Joy Lanzendorfer

I had heard a lot about Le Bistro in Petaluma. After all, the restaurant, sitting unobtrusively on Petaluma Boulevard South a few blocks from downtown, has been there for 19 years. When people talk about Le Bistro, they mention owner and chef Corey Basso. Many call Basso a first-class chef, even a genius, but note that he is particular about how Le Bistro is run. One woman on the reviewing website Yelp compared him to the Soup Nazi from Seinfeld. It all sounded a little intimidating, like I was going to a restaurant run by some sort of brilliant culinary dictator.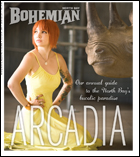 UPDATE: I re-posted this entry because the comments were broken before. It's a long story. But now you can comment on it.