Italy Part IV — Florence and Siena
I was going to write more Italy entries, but I feel like it's dragging on, so I'll just tell you about the difference between Florence and Siena.
In the 1200-1300s, Florence and Siena were in stiff competition with each other. Florence had a river, Siena had banking. They were both in Tuscany. They both built marble-covered churches with big domes in the center. They both had lots of yellow buildings with red roofs.

Siena

Florence
In 1348, Siena was struck with the black death. The population was wiped out. Afterwards, the monks blamed the illness on the large statue of Venus that stood in Il Campo, the courtyard in the center of town. The townspeople broke the statue up and buried it around the city.

Il Campo
But the damage had been done. Siena was wiped out by the disease, while Florence went on to become the birthplace of the Renaissance.
Today, Florence is gorgeous, crowded, and filled with wonderful shops and museums. Siena is smaller, more intimate, and in the evening, Il Campo is filled with pretty Italian children.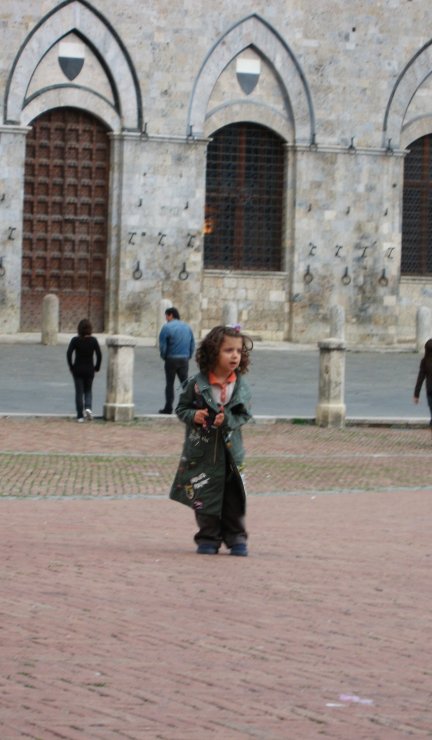 While in Siena, I tried wild boar and grappa and wandered around alleyways that are much the same as they were in medieval times. In Florence, I did all that other Italian stuff–eating, art, etc.

Siena Alley
Both were fun. Both were worth it. I will definitely go back to Italy some day.

Me in front of the Fountain of Joy in Siena.
Part I: Ancient Rome
Part II: Italian Culture
Part III: Art and God
Part IV: Florence and Siena